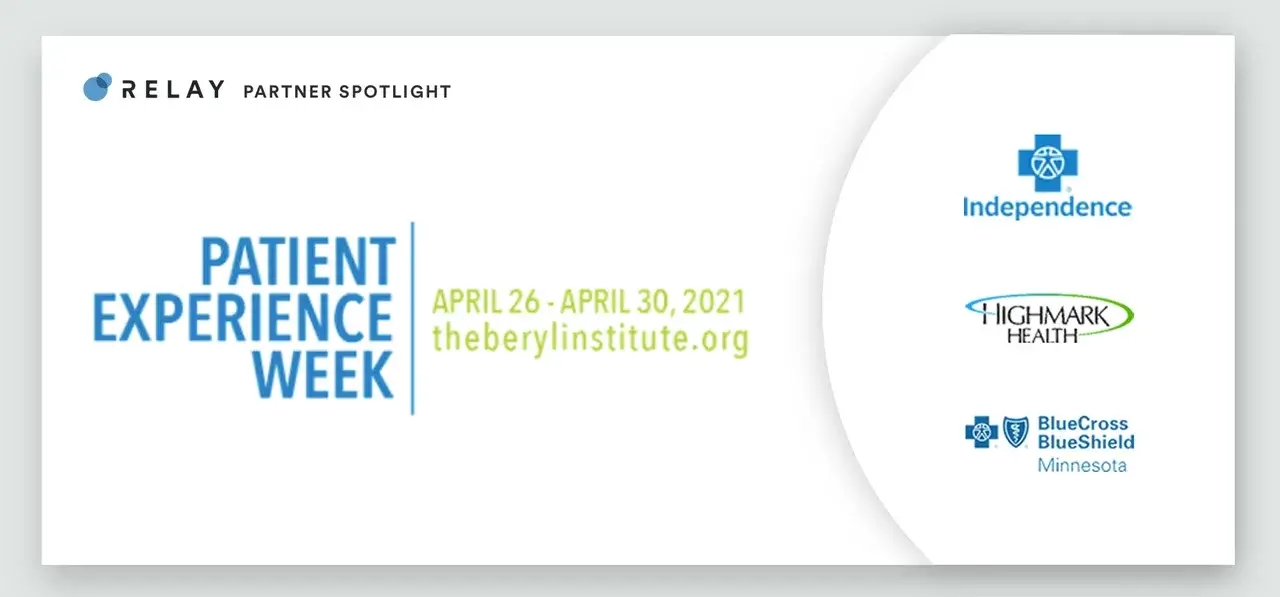 Post
Insights to Elevate the Member Experience in Healthcare
In honor of Patient Experience Week presented by the Beryl Institute, we wanted to highlight some of our healthcare clients who are elevating the member experience across the healthcare journey, from streamlining prior authorization approval to providing proactive support and resources post-procedure, all through our frictionless, digital channel.
We gathered insights from a conversation between our CEO, Matt Gillin, and three healthcare client panelists, Lindsey Knight, from Highmark Health, Erin O'Connell, from Blue Cross Blue Shield of Minnesota, and Erin Thurston, from Independence Blue Cross, who innovatively tackled the member experience challenge accelerated by the COVID-19 pandemic and continued to drive outcomes during that time and beyond. These insights have persisted throughout this new age of digital transformation and offer important learnings for CX leaders across all industries. We have compiled the insights below, but if you are interested in hearing the entire conversation, please visit this link.
Establishing Digital Connectivity
The first theme that emerged in creating a successful member engagement program was to establish digital connectivity with members early and often. At the peak of the COVID-19 pandemic, these health plans were able to leverage their already established digital relationships with members, allowing them to share important information and health updates at a moment's notice. Now that they have established, trusted connections with members, they can deliver individualized, frictionless experiences throughout the entire member lifecycle.
By inviting members to get connected early and often, we've been able to build that connection and get digitally connected to two thirds of our subscribers and over half of all of our members, which has been very instrumental in this movement that we're in with COVID and explaining changes to members.

Erin Thurston, Independence Blue Cross
I think digital overall has just become a bigger part of our everyday lives and we have to be able to adapt and meet those members and patients where they need us, when they need us, in whatever channel that is.

Lindsey Knight, Highmark Health
Member-First Engagement Strategy
The second point that our panelists highlighted was a member-first approach to their engagement strategies, centering around making the experiences as frictionless and easy as possible for each member to engage. While providing the right content is important, delivering individualized experiences on a familiar, secure and preferred channel is what fosters authentic, longer lasting member relationships. Member expectations have risen in the past year, so it is paramount to build a strategy that effectively meets or exceeds those expectations.
We want health care that is easy to use, health care that is affordable, and health care that is within reach. And in the center of those three areas is members first. We're uber focused on the member, so we really want to drive engagement with members, where they want to have the right message at the right time and the right channel and really meet them where they are.

Erin O'Connell, Blue Cross Blue Shield of Minnesota
We want to make sure that we're helping members understand their plans, so that they can maximize their benefits. We want to make sure that they're making informed healthcare decisions and optimizing their health and well-being. Lastly, we can make self-service simple and to the point of a frictionless experience, which is part of what our digital strategy is anchored in.

Erin Thurston, Independence Blue Cross
Better Engagement = Better Outcomes
The last point the panelists shared centers around delivering meaningful and impactful experiences to drive the desired outcomes both for the member and for the business. The ability to deliver an experience tailored with the right information to educate or guide members to take action at their unique place in the member journey is a game-changer for member experience in this digital world. When looking at specific examples presented by our healthcare leaders, the impact of proactive, individualized messaging is clear given the outcomes shared.
When we compare our members who are digitally engaged to those who are not, we've seen that we have 11% higher compliance rates for our digitally engaged members, 14% less ER, utilization for non-emergent reasons, 42% or more compliant with their medication regimen. So, digital works.

Erin Thurston, Independence Blue Cross
When we get the prior authorization information that we need from a member, it immediately triggers out to the member to tell them whether their authorization is approved, partially approved, or denied. Relay allows us to really help that member with that next best action: if they are approved, they have everything that they need right in their hand, and know the date, the time, and the doctor; and if they are partially approved or denied, they understand immediately what they need to do to mitigate it to either work with their doctor to get it re-submitted or whatever they need to do, it's right there

Lindsey Knight, Highmark Health
Relay is proud to be helping these innovative healthcare partners achieve their member engagement goals and drive the important health outcomes for members that positively impact their experience. If you are interested in learning more about how Relay can support your member engagement strategy, request a demo here.