Highmark Blue Cross Blue Shield Wins BCBSA Brand Excellence Award
Apr 08, 2021
We are thrilled to share the news that our client, Highmark Blue Cross Blue Shield, was selected to receive the Brand Excellence Award from the Blue Cross Blue Shield Association (BCBSA) for Brand Innovation. The annual award "recognizes an innovative program that provides measurable impact to customers and the BCBS brand."
Highmark leveraged its existing member connections via the secure, HIPAA-compliant Customer Feed and expanded its offerings to include bidirectional messaging with nurses and health coaches, promoting health coach engagement. Through this campaign, Highmark targeted high-risk, hard-to-reach patients, inviting them to an asynchronous conversation with a nurse or other healthcare professional all within a unique and secure mobile experience. This easy, more accessible service offered a highly engaging alternative to traditional phone outreach, meeting members on a frictionless, 1:1 channel to access the care that they needed.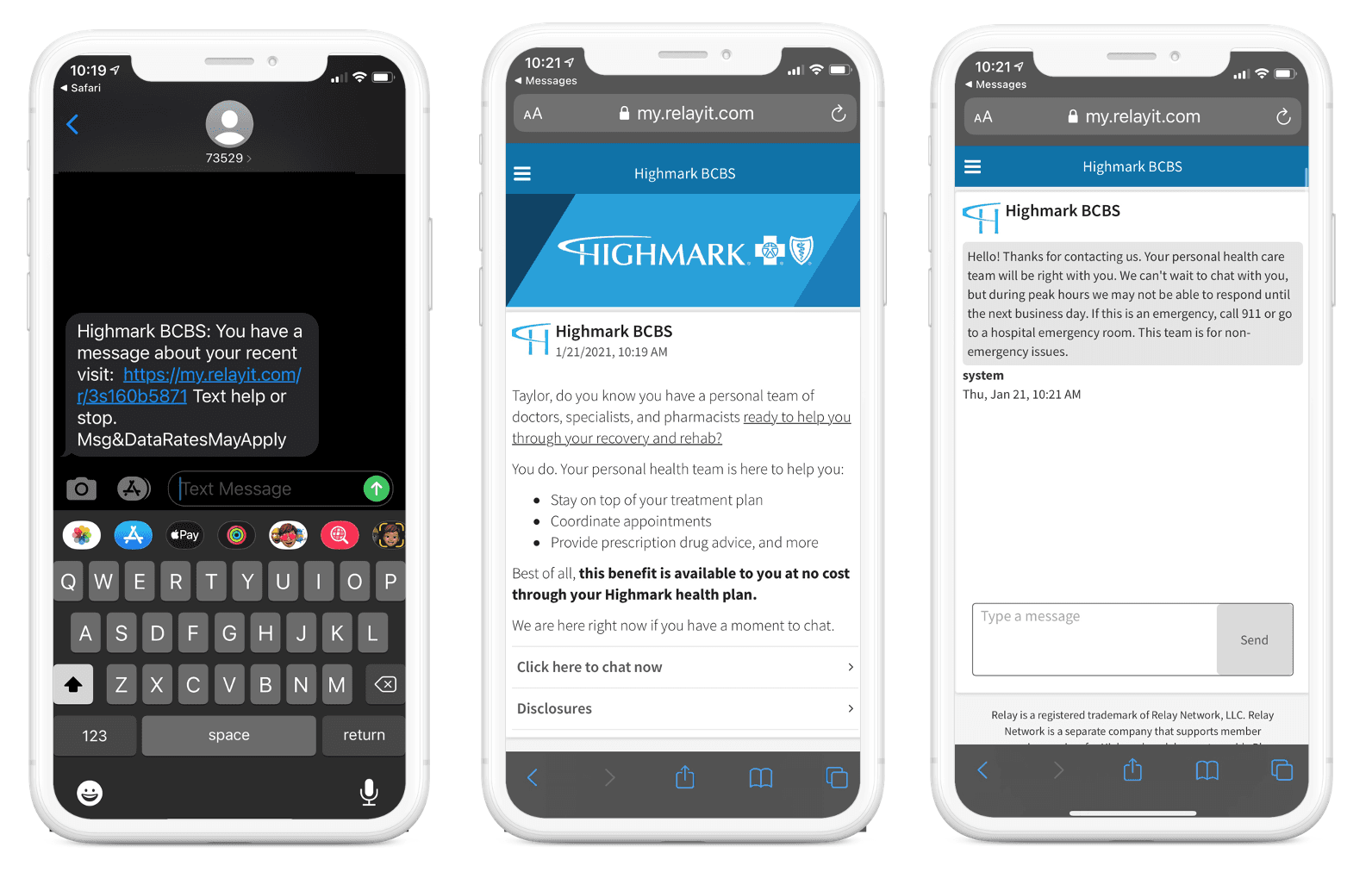 Through this program, Highmark has seen incredible results delivering this offering to more than a quarter million of their highest-risk members. The pilot, which launched in February 2020, focused on transition of care for high-risk members, in an effort to prevent readmission and emergency visits, which cost an average of $3,800 per readmission. Highmark has since expanded the outreach to promote awareness around the COVID-19 pandemic, as well as promote virtual visits when in-person care was limited. The program is continuing to grow at an impressive trajectory given the success the team has seen so far.

Over the course of the campaign, Highmark has already achieved more than $1 million in cost savings with the top-performing campaign achieving a 67% action rate and a 57% click-through rate. Dr. Benjamin Edelshain, VP of Clinical Engagement & Digital Innovation at Highmark, said recently on the , "When we connect someone with a nurse during their discharge, we reduce their readmission rate, we reduce the ED use, when we quantify that, it comes out to roughly $3000-9000 over a 6-month period in cost avoidance. And so, we can attribute about $1 million so far in this technology."
While the engagement metrics and cost savings alone demonstrate amazing outcomes, it is also important to note the impact this campaign had on fostering trusted member relationships. As mentioned in their award announcement, Highmark shared, "The mobile outreach campaigns didn't just promote health and wellness, they promoted a relationship. The average count of back-and-forth messages between member and coach was 9, with the highest at 116, according to Dr. Edelshain." Building trusted, stronger and more valuable customer relationships is paramount to our mission at Relay, so to hear first-hand accounts from members around the positive impact of this program is a powerful testament to the work we strive to do with clients every day.
We are so proud to partner with Highmark on this incredible achievement and will continue working to positively impact member experiences, engagement and outcomes in the health payer space.
Highmark will be presenting the successes from this campaign at Blue National Summit from May 4-14th.
To read the full press release from Highmark, click here.
For the full podcast, Bright Spots in Healthcare, featuring Dr. Benjamin Edelshain, VP of Clinical Engagement & Digital Innovation at Highmark, listen here.
If you'd like to learn more about Highmark's program or see a custom demo, click here.