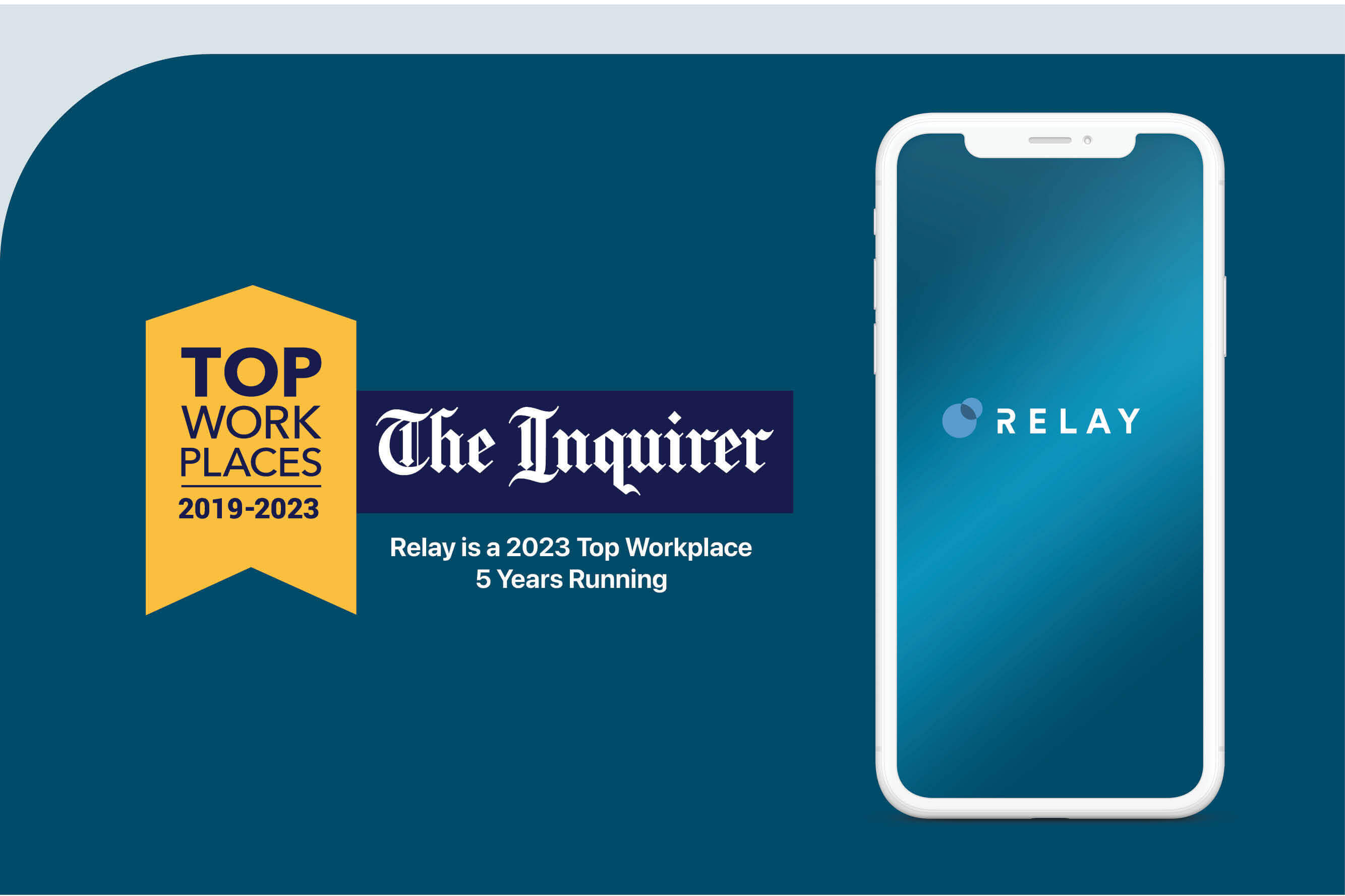 Post
Relay Named a 2023 Top Workplace Winner by the Philadelphia Inquirer
We are proud to share that Relay has been named a 2023 Top Workplace by the Philadelphia Inquirer for the 5th straight year! They say that a company is only as good as its people, and that sentiment could not be more true of the team at Relay. To celebrate this incredible honor, we gathered quotes from our team members about their experience working at Relay.   
What is your favorite part about working at Relay?
There's never a day I don't feel challenged and learn something new from my colleagues at Relay. I'm constantly inspired and motivated to go the extra mile."
Joey, Marketing
Although I love many aspects of Relay, I'd say my favorite would be the people I get to work with day in and day out. From one team or project to the next, one thing they all have in common is teamwork. As the saying goes, "the whole is greater than the sum of its parts". It makes a huge difference when you can literally feel a team effort all around you. Relay has done an exceptional job in creating a collaborative and safe place to achieve that synergy."
Paige, Account Management
What are you most grateful for in working at Relay?
I'm most grateful for the opportunity to work at a company that has a truly groundbreaking product that makes such a positive difference in people's lives and to work with a team of such talented and committed people, who I learn so much from every day."
Tom, Client Success
I'm grateful for the personal and professional growth I'm encouraged to achieve at Relay and the individuals within it. Every day brings new challenges and opportunities. I've had the chance to work on projects within cross functional groups that open my professional experience up to new perspectives and allow me access to the most encouraging and supportive people. I'd also highlight the flexibility I am granted to hold space for my family first. The load feels heavy as a working parent, but Relay alleviates so much of that burden and encourages us to always put our health and families at the top of the priority list."
Sabrina, Sales Enablement
What inspires you in your role at Relay?
I'm inspired to do the work that I do when I see the tremendous results that our solution yields for our clients and their customers, members, and patients."
Vanessa, Solutions Architect
There are three areas of inspiration that I draw on daily:

First, the market opportunity. We have the ability to change the way companies across all verticals are interacting with their consumers for the better.

Second, the impact of our product. Our technology, coupled with our incredibly intelligent employees, can ultimately lead consumers (members, patients, customers) to better, health, wealth, and improved quality of life. It's incredible to know that we have been able to support lives being changed for the better through our technology.

Third, the people. I consider myself extremely fortunate to work with the best of the best. We have innovators of all flavors, bringing creativity, industry knowledge, cutting edge technology and strategy to the table every single day. The cherry on top is I get to do this with the kindest, most intellectual, and genuinely good people whom I have the pleasure of calling my co-workers."
Sabrina, Sales Enablement
We are so proud of our employees for the work that they do every day and are grateful for their tireless work and contributions. If you are interested in learning more about Relay or joining the team, please check out our current openings by visiting our careers page:
We would also like to extend our congratulations to the other winners of the Top Workplaces Award for 2023. To read more about the Top Workplaces winners, you can visit this link: https://sponsored.inquirer.com/philadelphia-inquirer-top-workplaces-2023/