The FeedCast
Episode #3:
Getting Inside the Mind of Your Customer: An Agency Approach to Customer Engagement
Featuring Jason Kahner, Global Chief Client Officer, Grey Group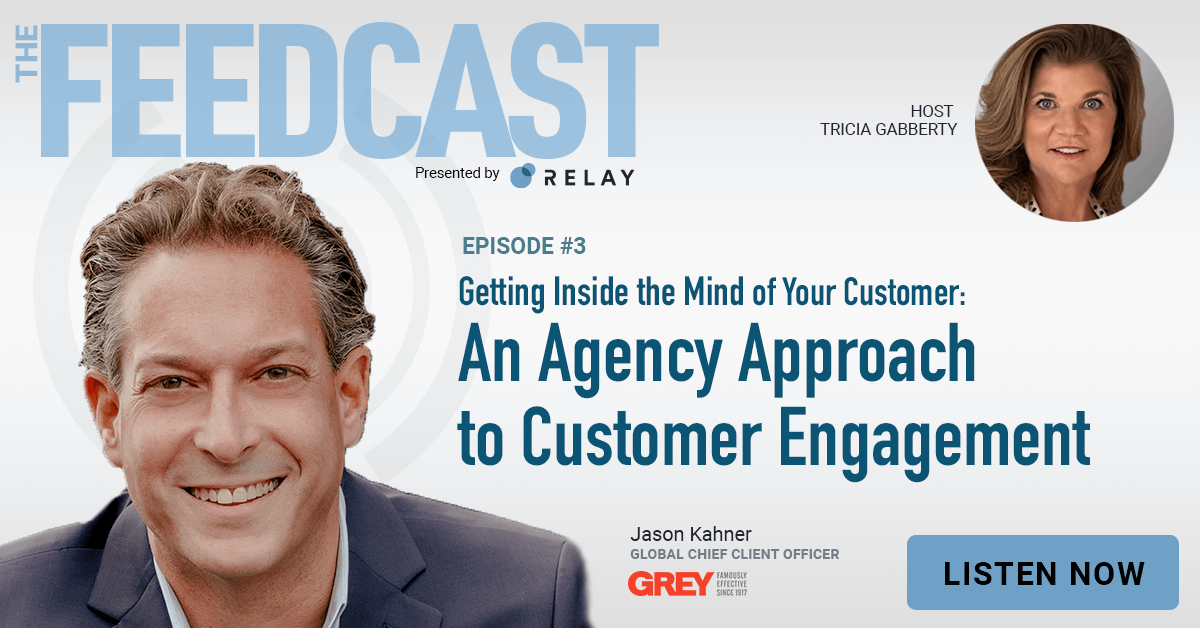 Listen and follow "The FeedCast" on the following platforms:
Apple | Spotify | Amazon | Google
We all know that in retaining customers and gaining new ones, we need to engage with them continually. However, many companies tend to adopt a mediocre dynamic cadence that adheres to a daily or weekly contact schedule. And while some may have content that is relatively relevant based on a sweep of the customer's recent behavior, others seem to continue to use a spray-and-pray approach.
Onboarding: You Only Have One Chance to Make a First Impression
Customer engagement begins at the very beginning. That adage of "you only have one chance to make a first impression" rings true. And, while you may get a 'do over', according to Jason Kahner, Global Chief Client Officer at Grey Group, "it's probably going to cost you."
Kahner believes in doing your homework up front, gathering data points, and creating a true customer journey.
Today's customer journey "looks more like a bowl of spaghetti than a straight line", continues Kahner, but understanding what makes them tick, what makes them move, and digging deeper to understand some non-apparent data points will help you create the right experience for your customers and invite them to try your brand. "You can't do push marketing and always expect success," explains Kahner. "Putting forward what you want your brand, product, or service to feel like to that customer helps create the right experience that is relevant for them. Understanding their needs in advance helps to build that emotional currency to sway the customer to your brand. These are core essentials that you can't leapfrog over."
Post-Onboarding, Consistent Engagement is Key
Push marketing, while seen as a necessary complement to pull marketing, is somewhat synonymous with the top of the marketing funnel in terms of creating awareness. Marketers need to continue that push throughout the relationship, consistently engaging with customers as they go through their relationship with your brand. So, how do we do that?
"Whether that's actively soliciting feedback, whether that is taking research to a more insightful and impactful level, like doing ethnographies, doing deprivation studies once they have something, there are so many ways to get at what a consumer actually needs or doesn't even know they need. How are you going to delight your customer at every single turn so that you are providing some sort of value-add at each engagement?" says Kahner.
As marketers, we all need to have a mechanism for engagement and feedback along the way. Yes, this sounds like simple logic and table stakes for all yet may be daunting or perceived as expensive to implement by others. That said, marketers do have the basic tools of digital channels like social and mobile at their fingertips, that can provide helpful insights into where the customer is on their own specific journey.
Making the Most of Micro-Moments
Kahner reminds us that there are on-ramps and off-ramps that a brand needs to be aware of as they map out and understand the customer journey. This ties back to his comment on the sales funnel no longer being linear, rather, it's a path that moves, much like the consumer, to and around the brand. By drawing insights from every touchpoint – email, direct mail, in-store or call center interactions, for example – a brand can better prepare and anticipate a more consistent and customer-centric approach.
"There are all of these micro-moments," Kahner continues, "that occur from the moment of awareness through to the purchase, loyalty, and advocacy phase when your team has the opportunity of having a seamless handoff from one touchpoint to the next. That's the win, but you can't drop the ball because consumers are savvy, and they have the advantage of social media at their fingertips to tell the world just how your brand is doing."
And what happens if you drop that ball? "The first step is you have to own it. If you don't own up to your error, you are going to get called out on it. So be humble about it and acknowledge it. Tell your audience what steps you are taking to correct it, even if you don't have it figured out just yet," advises Kahner.
Your customer engagement strategy requires continual refinement of all its moving pieces. And the companies that win are the ones that choose to monitor those moving pieces constantly and consistently every step along the way.
To learn more about the Relay Feed and how it can help with customer engagement initiatives, reach us at: sales@relaynetwork.com
Sign up here to receive a link to the FeedCast directly to your inbox each month.