The FeedCast
Episode #4:
Healthcare Engagement: Driving Compassion Through Digital Channels
Featuring Eric Steinberger, Chief Marketing Officer, Atlantic Health Systems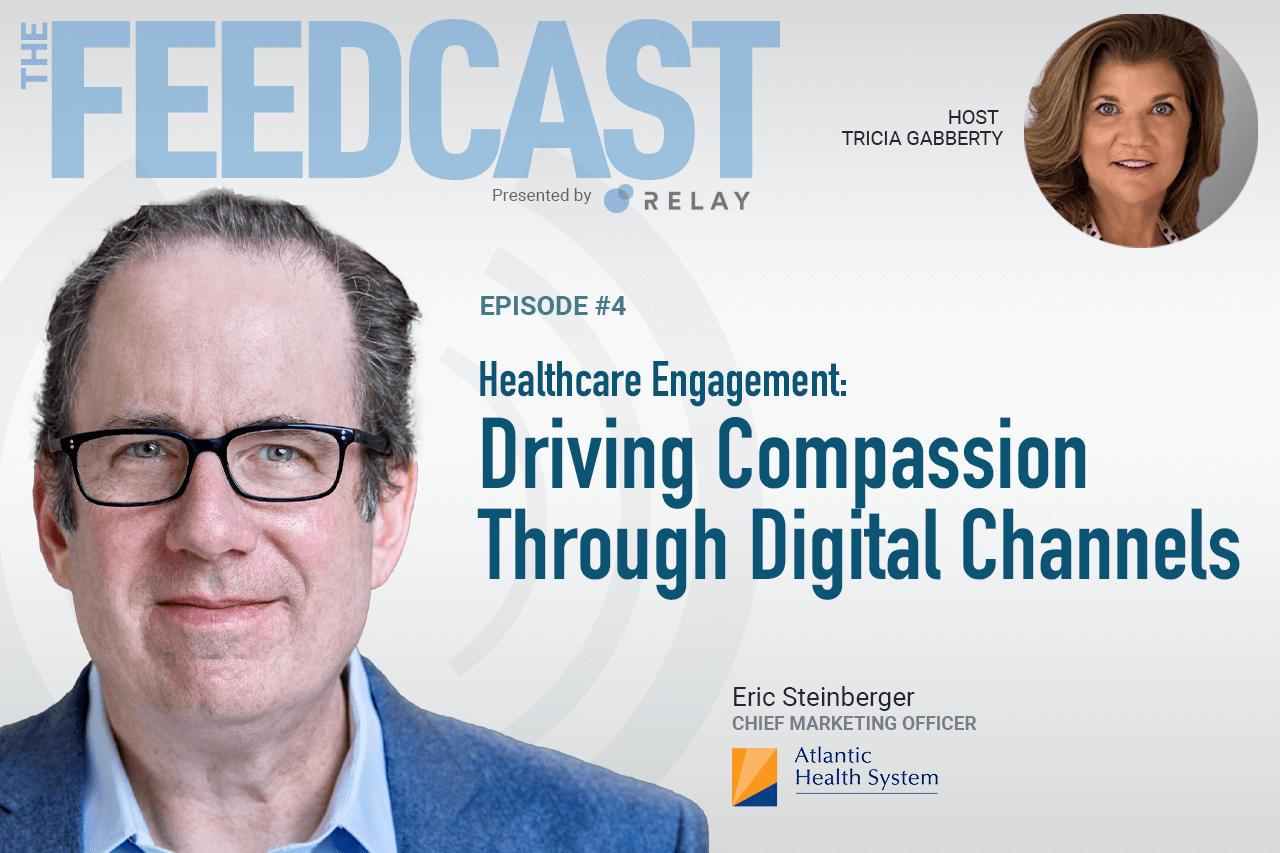 Listen and follow "The FeedCast" on the following platforms:
Apple | Spotify | Amazon | Google
Transitioning as a marketer from the financial and retail industries into healthcare can be quite challenging. For instance, the medical community isn't necessarily looking to acquire new customers or encourage repeat visits by its current ones. In our most recent episode of The FeedCast, featured guest Eric Steinberger, Chief Marketing Officer of Atlantic Health Systems, shares his experience in making a move to the healthcare vertical and what makes for the most effective marketing, especially in the digital space. In his discussion with host, Tricia Gabberty, Eric shares the importance of focusing on the brand experience to humanize technology and digital channels when engaging with patients.
"When it comes to compassion," says Eric, "what we hear very clearly from patients is this concept of 'I want to be treated like a person, this is my health, this is my life and if I'm going to be treated like I'm just sort of a widget in a machine, that is going to create a lot of anxiety for me'."
So, how does a healthcare brand or service begin to impart that compassion? At the base of medical technology lies the electronic medical record (EMR) designed to have every piece of patient health information in one place. Consumers, Eric explains, lose that sense of trust and comfort when they are forced to repeat their story over and over to each team member; they feel the information isn't being properly transferred among everyone on their medical team. The EMR enables patient's history and care to reside on one platform, so if medical teams maximize the usage of it, it not only sets the patient up to feel heard, but also translates into the assurance that they have a team that is tuned into their unique profile. When all records are easily accessible to each medical practitioner, the level of care and comfort rises, and so does a patient's perception of that brand. In Eric's role as CMO, he is working to help Atlantic Health Systems connect with patients in new and easier ways by reducing the barriers to access and helping to amplify the system's brand position as a provider of the highest quality care.
However, building a brand in such a competitive space, as well as establishing that level of comfort sought by patients, can be tricky in a highly regulated industry. Where compliance rules kick in is around safety. "Sometimes the same questions being asked repeatedly are intentional. The idea of compliance is wrapped around safety. From an adherence standpoint, when you walk into a hospital and every person who comes up to you asks your name and birthday, it's designed to be sure you are you. God forbid you give someone the wrong medication. There are just certain things from a safety perspective you want to be careful about and I think patients are very comfortable with that, so comfort and compliance can work hand in hand."
Transparency in the healthcare provider's communications channels with their patients goes a long way in supporting the idea of having that human touch. One of the immediate crossovers Eric shared from his marketing experience in other industries that he's carried into the healthcare field was the idea of personalization. Many–if not all of us—have the option of emailing our doctors today, which allows for that personalization and 1:1 dialogue. Where is the medical industry going next? Texting. While rolled out in some markets, it is not yet as ubiquitous, but with feed technology available as a secure channel, the industry is ready to begin interacting with their patients on their most preferred channel, their mobile. "These are very consumer-led processes," Eric continues, "and the ability to have access to your physician in a way you want to communicate with them means health systems need to lean in to meeting their patients where they are, and that is generally on their phone."
But before we even get to communicate with our physician, we need to find the one that matches our needs and our trust levels. So, we circle back to the brand and another tool that Eric has turned to from previous gigs when it comes to promoting your brand: word of mouth. We can all attest to wanting to find and keep the highest quality healthcare. As with any industry, the best approach to that is through referrals from friends and family. While many healthcare companies believe that awards will attract patients to seek out their physicians or facilities, Eric contends that a random person on social media providing a 5-star rating to their healthcare experience goes far beyond recognition awards. "It's the wisdom of the crowds. If you see that someone has a thousand reviews and 4.9 stars, that is far more powerful than 'Look at us, we got an award'."
As the podcast wrapped up, Eric continued to note the idea of personalization in healthcare as being the most critical piece of traditional marketing now to take hold in the healthcare marketers' toolkit.
"We are just at the beginning of the digital and technology capabilities in this space. And so, I look to the future and the ability to create visual AI tools that could be created in terms of that humanization and compassion. While we are all happy that we can now email our doctors, consider SMS and text messaging and beyond that."
As SMS platforms begin to expand into healthcare and increase personalization and humanization, the next logical frontier is certainly AI. Could an Avatar of your physician—customized to their specialty and knowledge and personality –be around the corner? Now that would take personalization, comfort, and care level to a whole new level.
To learn more about the Relay Feed and how it can help with member engagement initiatives, reach us at: sales@relaynetwork.com
Sign up here to receive a link to the FeedCast directly to your inbox each month.