The FeedCast
Episode #2:
How's Your Customer Health? A Deeper Look at a Telling Metric for Loyalty and Retention
Featuring Rachael McBrearty, CCO, Evisort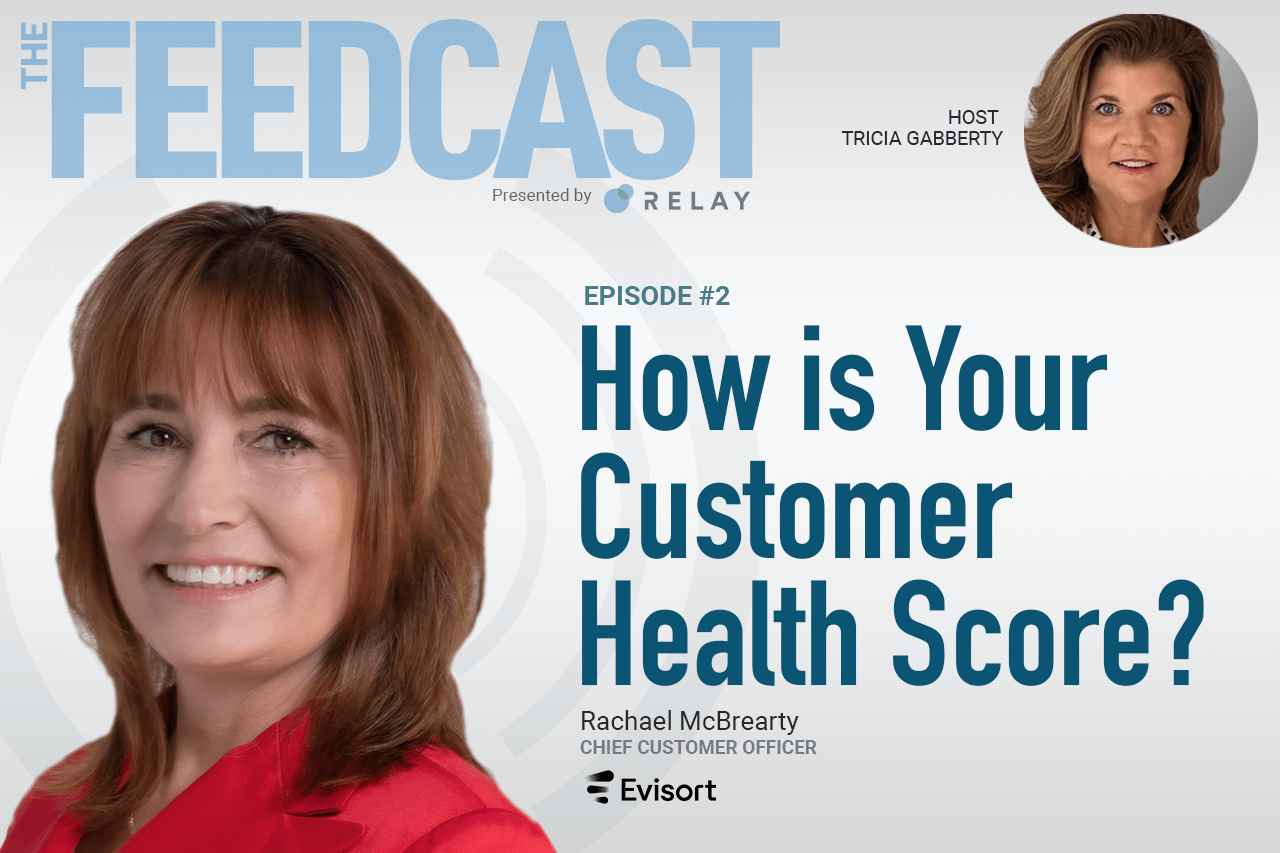 Listen and follow "The FeedCast" on the following platforms:
Apple | Spotify | Amazon | Google
Customers are the lifeblood of any business, and customer engagement is a key factor for ensuring their loyalty and boosting revenue. But what exactly is customer engagement, and why is it so important?
In this blog post, we'll discuss the strategic imperative that is customer engagement, and how it can be used to fuel revenue growth. We'll look at how to measure your customer's health–a key indicator in monitoring your customer's satisfaction with your brand, and how companies can use customer data to optimize their customer's experience.
Onboarding: Creating a Solid First Impression
So, where does good customer engagement begin? It starts at the onboarding stage. That first touch, that first interaction can make or break the customer's relationship with your brand. This is where the litmus test of your customer engagement begins and will be the proof point of whether you will begin a relationship with this customer. One critical element to keep in mind is that every purchase has some emotional component to it. Consumers are investing their time, their money, and, most importantly, their trust in your company. So, establishing trust and authenticity at the outset matters a lot. This means being transparent about such things as your delivery times, your customer service channels, your return policies. It is important to establish brand trust and demonstrate to prospective customers—and existing ones– how you're different from other brands by delivering an exceptional customer experience from the very beginning. As Rachael McBrearty, Chief Customer Officer for Evisort, cites "it's too easy to get product from anywhere." That simple fact ups the ante and serves as a reminder to brands that they only have one chance to make a first impression.
Checking Your Customer's Health Score
The notion of measuring your customer's health may not be new, but it is something that can easily be lost. When setting up a customer engagement initiative, it's important that companies figure out the top metrics that matter to ensure that their customers are happy and satisfied. Basics can include their frequency of interactions with your brand or repeat purchases. For business to business, it means looking at such things as how often they call in to your new product release webinars, or timely contract renewals. In the case of consumer business, it's not dissimilar: how often are they interacting with your brand? Are they submitting surveys, liking you on social media, posting product reviews? There is no one-size-fits-all barometer for brands in measuring customer health. One thing to avoid, however, is having too many unnecessary metrics. Stick to the ones that can give you short-term insights into whether a customer needs prodding, resuscitation, or if they are gleefully buzzing along. Additionally, be sure to employ longer-term feedback and insight mechanisms to provide you with a deeper understanding of your customer's behaviors and habits so you can continually modify and enhance the customer engagement tactics you have in place. This supports customer retention, and we all know that customer acquisition is far more expensive than keeping the customers you have.
Service With a Smile
The wrapper on customer engagement is ongoing customer servic–to hopefully manage all the compliments, though complaints are also guaranteed. Quoting again from McBrearty, she shares that in a previous role where there was a hiccup with her customers, they were more appreciative of the issue at hand being recognized immediately versus the time it took to resolve the issue. "…customers did not point to how long it took to fix, but that we got to them quickly, acknowledged they had a problem and said we were working on it. That's what mattered, that time to respond." So, customers being heard is what matters here. And that demands even more attention in our progressively digital, chatbot world. Being able to transcend the digital world and give your customers the assurance that a human will manage—quickly—what the chatbot cannot is also key. This circles back to that emotional connection that you established at the beginning, during the pivotal onboarding phase.
To learn more about the Relay Feed and how it can help with customer engagement initiatives, reach us at: sales@relaynetwork.com
Sign up here to receive a link to the FeedCast directly to your inbox each month.