The FeedCast:
Moments That Matter: Customer Engagement and Health & Wellness Marketing
Featuring Caine Fair, Group Strategy Director of Engagements for Health and Wellness at Grey Group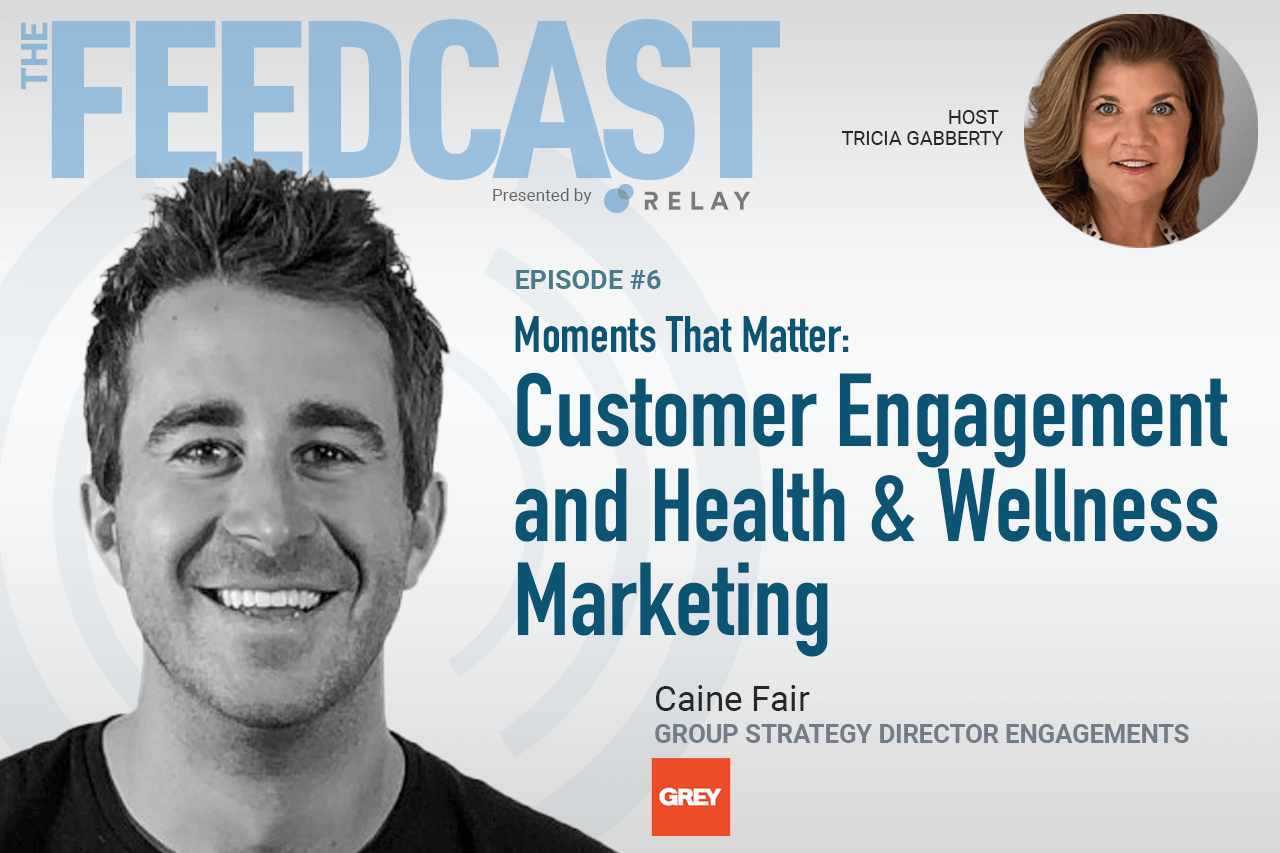 Listen and follow "The FeedCast" on the following platforms:
Apple | Spotify | Amazon | Google
In our latest episode of The FeedCast podcast, host Tricia Gabberty sat down with Caine Fair, Group Strategy Director of Engagements for Health and Wellness at Grey Group. The conversation focused on the evolution of social media and digital channels as an avenue for marketing and advertising in the highly regulated healthcare industry.
"I had an opportunity, early in my career, to work with one of the first pharmaceutical brands to consider social media as an avenue to reach out to people with a specific disease state, or those affected directly or indirectly by that disease state," Fair explained. "And we used social media to bring to life these stories and amazing testimonials of success from this product because it felt like the right place to go." Fair goes on to say that the FDA was still getting its feet wet in the digital space and that he, the brand, and the FDA worked in tandem to develop communications that were approvable yet effective.
It's the power of those stories, those first-hand testimonials shared through the digital channel where Fair saw—and continues to see—the most impact. "Social media is a platform that can really amplify the humanistic and authentic side of a brand."
Fair was part of the talented team at Grey Group that brought themostbeautfulsound.org to life, an incredible campaign designed to inspire hope for cancer patients. "We worked with doctors at Harvard Medical School and the team at ASCO (American Society of Clinical Oncologists) that shows the raw, the real to these cancer patients, the sound of their cancer cells dying. It's had a cultural impact globally."
The most impactful customer engagement tactic is one where the communication is a two-way street and not just the brand pitching its product. As the conversation continued, Tricia asked Caine how that is accomplished in healthcare marketing, given privacy and safety concerns.
"In the field of healthcare, it's one of the biggest challenges and opportunities. On the consumer side, you have the advantage of things like all the cookies that come through on your search query, something like Instagram serves an ad, you immediately click through, and pay with your Apple Pay if you have an iPhone, the entire transaction takes three to four minutes, if not less. Well, in healthcare, how do we provide these touch points along that journey, from the time they reach the parking lot after their diagnosis, through therapies and checkups and payments and meeting other people that are going through similar paths. We try to identify digital opportunities that can really drive decision by way of education and also with financial matters. Identifying a product or therapy or the questions that they can ask their doctors. We are working towards that frictionless experience."
One recommendation made is to have your healthcare marketing teams sit next to the consumer team (virtually or in person), so they can cultivate what is working in the consumer world, molding it to fit the needs of the consumer, or patient, in the healthcare space. Not only does this allow for leveraging the capabilities of different platforms, it also nurtures creative thinking by identifying engagement across all sorts of digital properties. While they may not always be a one-to-one match, there's a "mind meld", according to Fair, that drives inspiration.
Another best practice that was shared was how social media, the digital channels specifically, lend themselves to 'real time' research. Social media platforms allow marketers to have that pulse to capture real patient experiences and feedback that can be fed back into the brand in order to feed up relevant content, and, provide the brand with the opportunity to dig deeper into product improvements.
The podcast ends with Fair speaking to the shift in mindset needed, and gradually taking place, in the medical industry. Legacy healthcare providers who are more traditional in their thinking simply need to be educated not only in the many channels that exist to optimize health and wellness, but to also understand that each generation has its own comfort zone when it comes to receiving communications regarding their care.
Sign up here to receive a link to the FeedCast directly to your inbox each month.