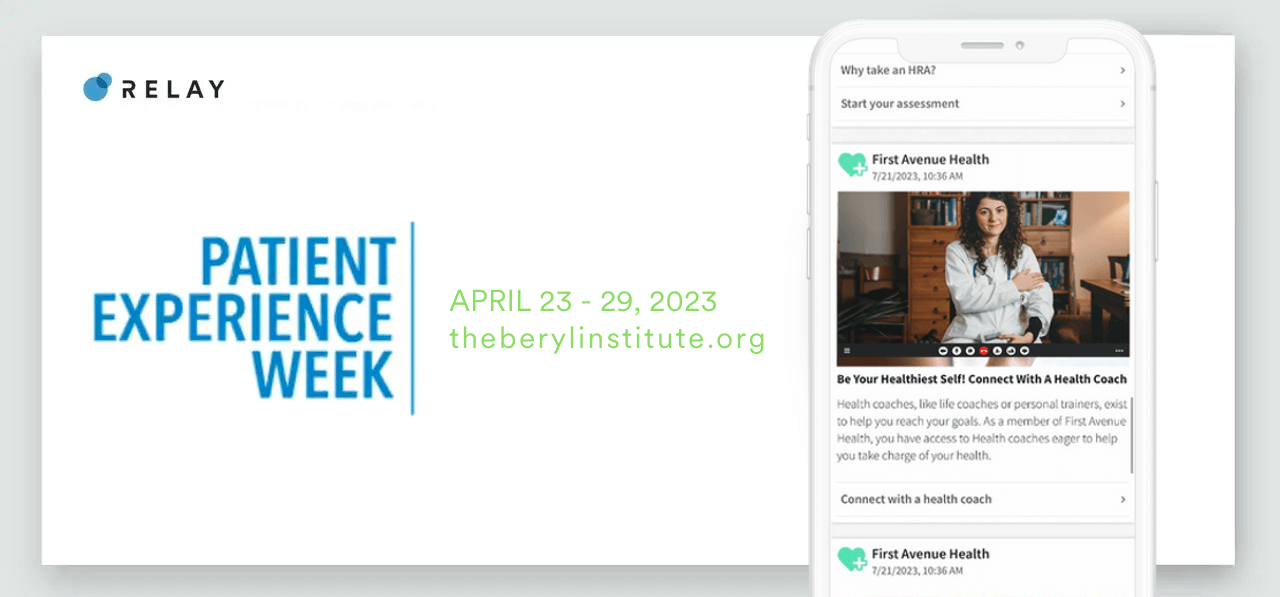 Post
Patient Experience Week: The Value of Relevant Content for an Enhanced Experience
Patient Experience Week, presented by the Beryl Institute, is an annual celebration of the importance of patient engagement, experience, and satisfaction. There are many individuals who touch the patient experience, so it is important to acknowledge the work across departments and how they all come together to create a meaningful experience.
One arm of the group that has a significant impact on patient and member experience is health payers. Continuously striving to improve the quality of care for their patients, they are always looking for ways to enhance the experience. From more meaningful patient engagement to making sure everyone feels heard and respected, there are several ways to ensure patients have a positive experience with health payers.
One of the things that is fundamental to the patient and member experience is engagement, particularly with their health plan. That's why, at Relay, it's our mission to enable our health payer clients to drive more meaningful engagement with the members and patients that they interact with every day. So, what does this look like?
Relay's clients in the health payer space use Relay Member Feeds to drive healthier member behavior, through explanation of benefits, preventive care reminders, medication adherence messages, among many other things. But one of the most important elements of the Relay Member Feed is its ability to serve up relevant educational content for members and patients. An educated and engaged members tends to be a healthier member, leading to lower costs for the member and payer alike.
A recent report from Patient Engagement Hit shared that "94% of patients want education content, but a third don't get it." There is endless content that health payers have for their members, but a lot of that content gets, what we call, "buried." While it does exist, a member or patient may have to go digging for it somewhere within in the portal or website. When using Relay, health payers flip the script and proactively provide the information to their members, demonstrating the value that they can provide and enabling a better overall experience.
In a Relay-hosted webinar with Chief Experience Officer at BCBS Louisiana, Shane Bray, he shared insights on the importance of engagement in the healthcare space and how his team at BCBS Louisiana has leveraged Relay Member Feeds to deliver contextually relevant and educational content to their members, to create a better experience. Bray shares his thoughts on educational experiences here:  
When there's education and engagement, it just makes the entire process work better. It's cheaper for everyone when people are staying healthy and staying out of the ER and seeing their primary care providers, maintaining their health. I think if we could really focus on those experiences that make a meaningful impact, we'll end up driving down premiums, reducing the overall load on the healthcare system and improving outcomes."
– Shane Bray, CXO, BCBS Louisiana
Another aspect of the member experience that is challenging is navigating the complexities of the healthcare space. So, one of the main priorities for a health payer is to make the experience for its members easier. According to Patient Engagement Hit, "when patients don't have high health literacy, the ability to understand, engage, and act upon health information, there can be negative health consequences."
For example, after a member receives a new diagnosis or needs to start a new medication, how can health payers streamline that experience for their members and make it easy for them to understand? The language that is used is important. The way that it is presented is important. There is a reason that certain web pages always rank at the top of a Google search, because their content is good – clear, accurate, consistent, and understandable. Bray touches on how to maximize the presentation of content when using it to engage with members:
If you want that engagement: you have to have good content. It has to be correct. It has to be concise. When [members] see it on your website, when they see it on your mobile app, when they call one of your advisors, the answers have to be the same. It can't be healthcare jargon. It has to be something that makes sense to someone who knows about healthcare."
Shane Bray, CXO, BCBS Louisiana
Good content also enables trust. Bray says it best in his remark about the status of trust in the healthcare space and how meaningful content and engagement can help to renew some of the lost trust from the past few years.
Particularly in healthcare, people just don't trust. Even today, after the pandemic, people have lost their trust in doctors and started to really lose their faith in the healthcare system in general. So, I think through that, those meaningful, contextual, just in time engagements that again are focused on value add to the member, if you do that right, I think that's the secret sauce."
Shane Bray, CXO, BCBS Louisiana
In addition, during a recent podcast interview with Dr. Benjamin Edelshain from Highmark Health, he also spoke to the importance of trust in healthcare today and how using technology like Relay Member Feeds can positively impact that aspect of the member experience.
I think this technology [Relay], however simple, is as an enabler towards building a more trusted relationship between the customer, the member, and their health insurance provider, which is traditionally not the case. But at least driving home, the fact that we're giving value to our customers really, I think gives a new spin on the term value-based care."
Dr. Benjamin Edelshain, Highmark Health
To learn more about how Relay Member Feeds can help enhance overall member and patient experience, receive your own feed by clicking the link below: