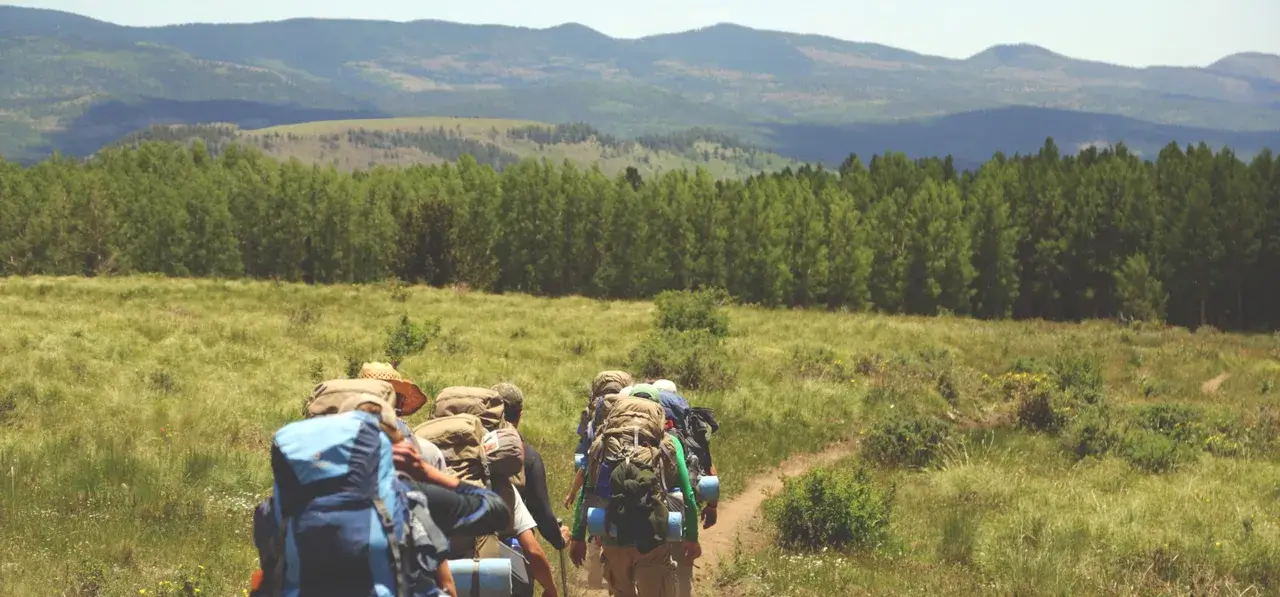 Post
10 Steps to Improving Customer Experience in Banking
If you want growth — and to hold onto that growth — the ticket is improving customer experience in banking.
It's almost taken on an air of the magical, with startup after startup promising to solve user frustrations with AI, algorithms, machine learning, or any other technique off a long list of buzzwords. The thing is, none of those whiz-bang theatrics mean anything if they don't help the customer accomplish what they're trying to do at that moment. When you think of the best banking customer experiences you've had, more than likely you're thinking of something exceedingly simple and tailored to your needs. Customers want to feel understood and confident about the steps they're taking on their banking journey. For banks, that means anticipating where customers might get stuck and proactively delivering solutions before they have to ask.
The good news is, accomplishing that kind of personalization at scale doesn't have to mean disrupting your entire tech stack or up-ending your process. That's what we aimed to show at Finovate. When we demoed at the annual fintech conference, we had just seven minutes to show what Relay's CX Builder could do. Fortunately, our one-of-a-kind mobile experience creation tool is built to do just that. We designed it so marketers, customer experience leaders and product owners could move fast, stay agile, and not wait around for development time. And we designed it to deliver an incredibly simple, incredibly effective path for users to walk down.
The result — an automatically triggered text, a hyper-personalized mobile experience, a clear path to conversion — offers a clear example of how to improve the digital customer experience in banking. And it can be accomplished in 10 easy steps.
The drag-and-drop tool improving customer experience in banking
We designed Relay to make customer experiences impossibly intuitive — both for the people building them and for the customers receiving them. Our CX Builder is just one way we do that, but it offers a great example of what customer experience in the banking industry can look like. The drag-and-drop framework shows you exactly what your users will see, so you can pick different triggers, move things around and test options until you've created a rich, effective digital experience that moves customers through their journeys.
To prove how fast and easy-to-use it really is, I used our Finovate demo slot to build a bank onboarding experience in one minute — live in front of more than 1,500 people. I played the role of a Customer Experience Manager at One Trust Bank, showing how to improve the customer experience in banking in just 60 seconds.
1. Here I am logged into CX Builder. You'll see all of the experiences that I've designed right here in my library.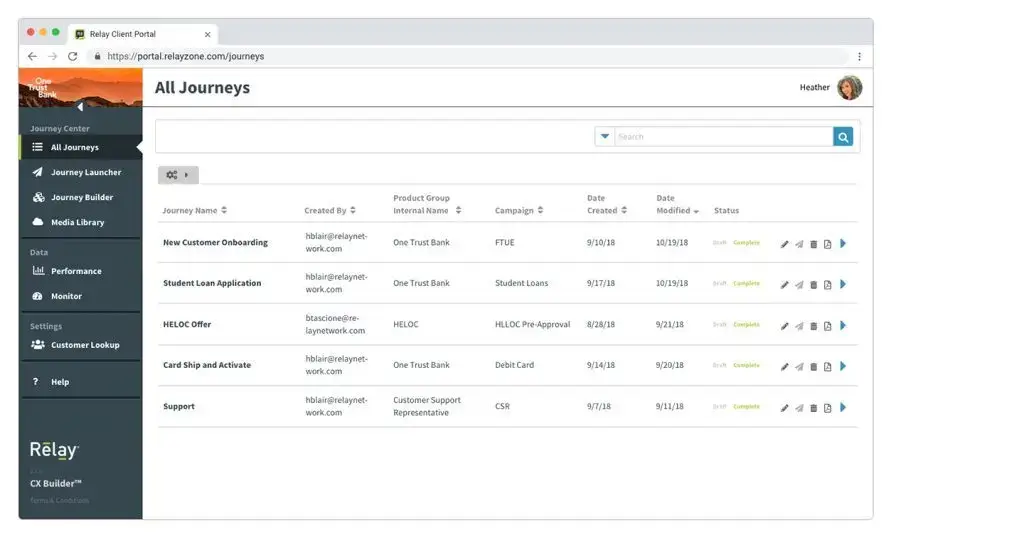 2. This is the bank onboarding experience I want to change. In one click, I can see all of the components within that experience. I'm going to click on the pencil icon to begin editing.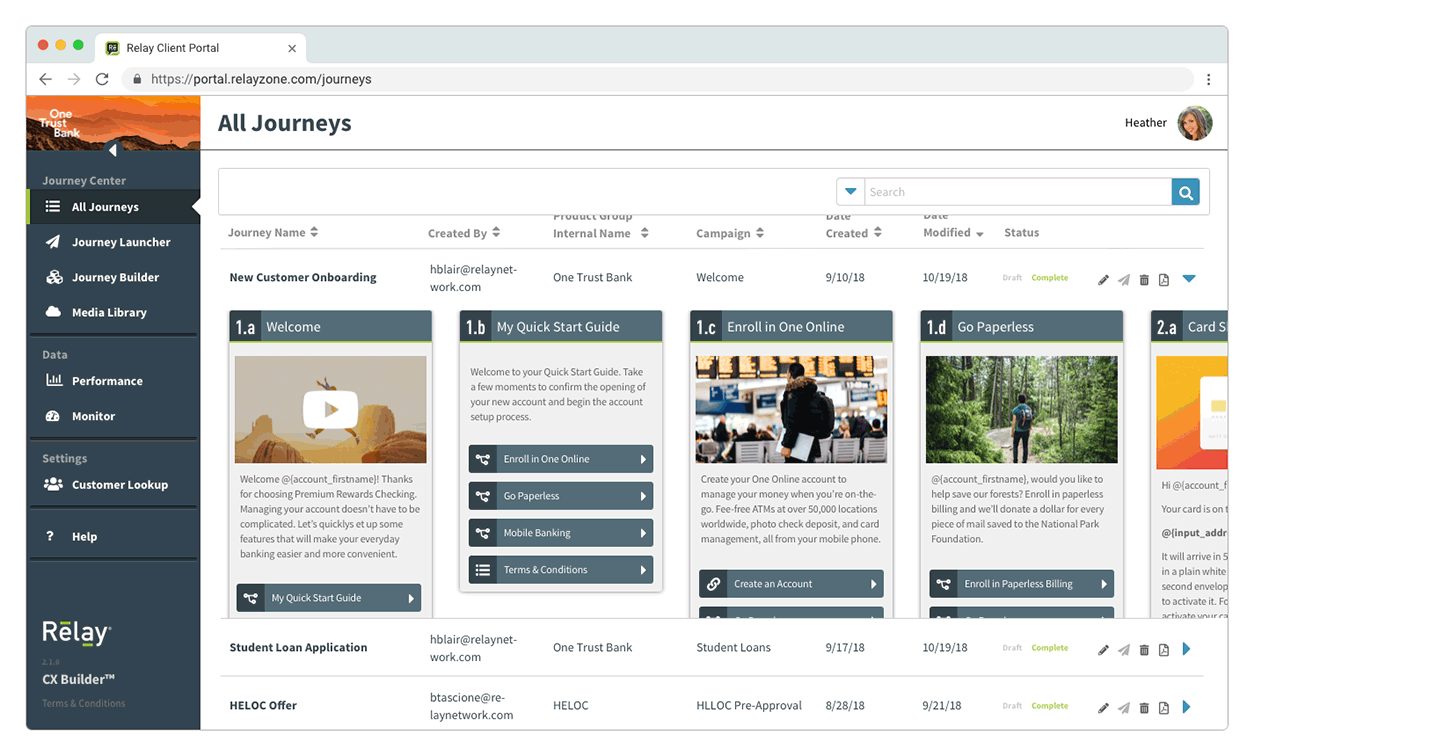 3. One thing you'll notice right away is just how different the CX Builder editor looks. While other platforms use triangles, stars and squares to represent user flows, CX Builder brings the workflow and customer experience together on one beautiful, easy-to-understand canvas.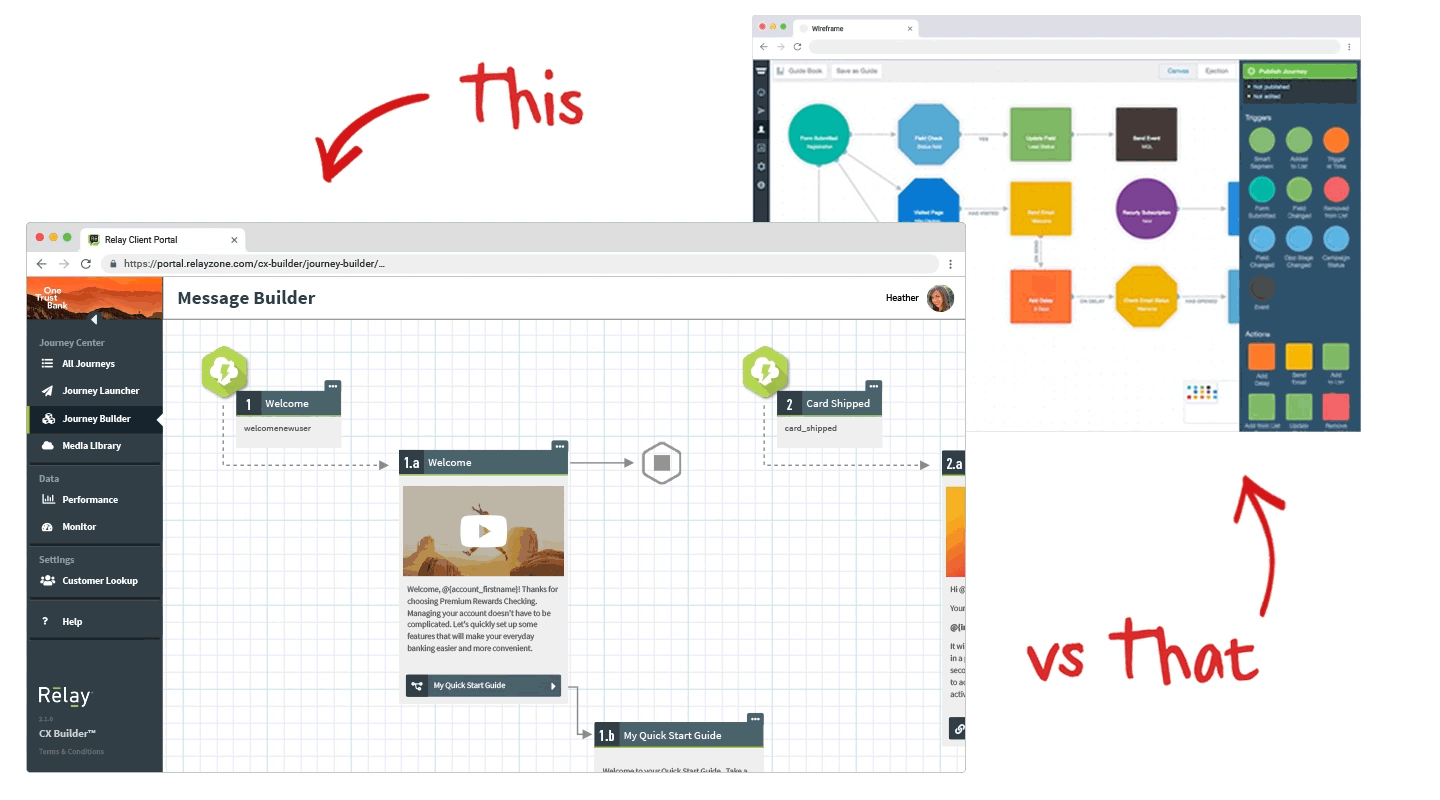 4. Here I'm creating a 30-day check in message*. Pay attention to the Live Preview on the left. Watch how this shows my changes in real time. This makes my job infinitely easier.
*Psst! A recent study by Deloitte on improving customer experience in banking specifically around account opening found that customers wish their banks would take the simple step to check in with them to see how things are going. Is your bank doing this today?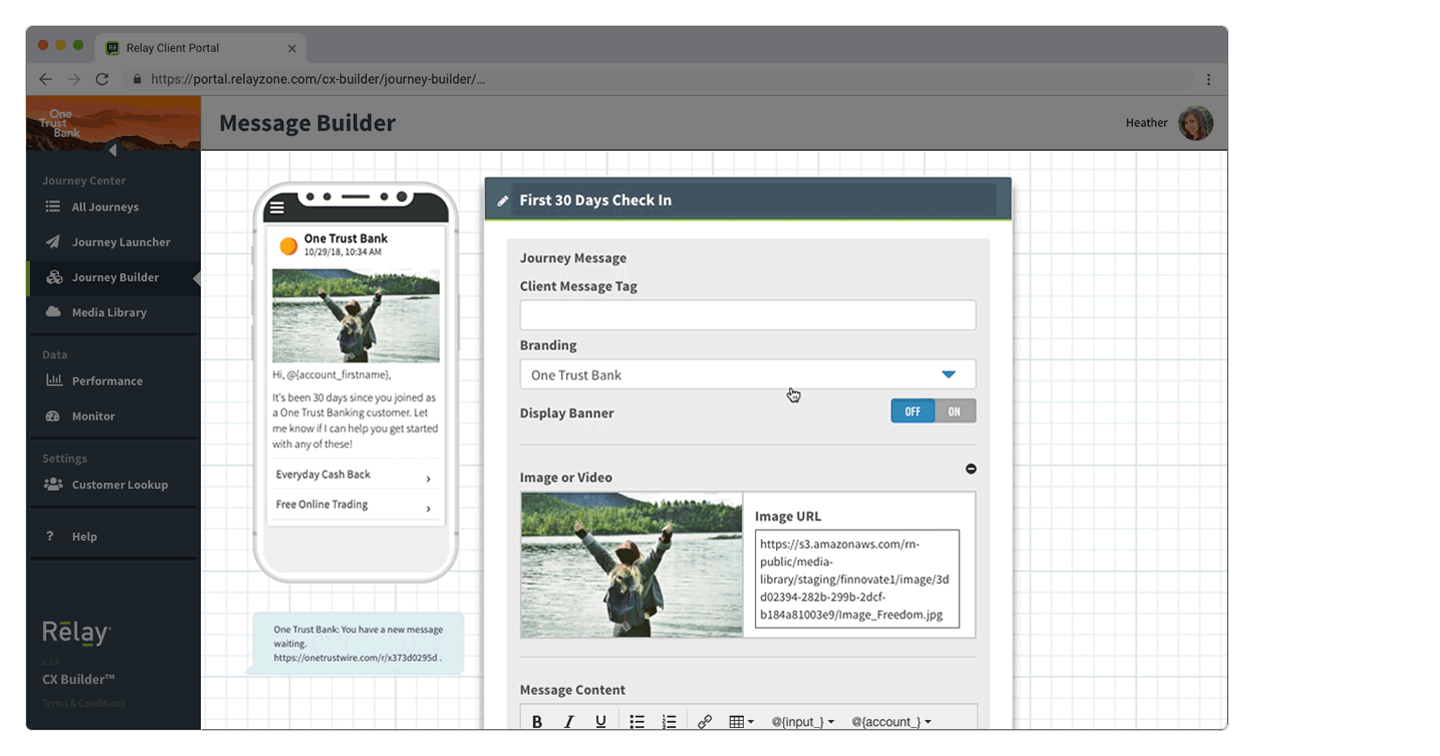 5. I'd like to brand this follow up message from a customer service agent for a more personal touch (I can brand at a company, product or individual level). Within a few clicks, I can brand it, edit it, add dynamic data, save it…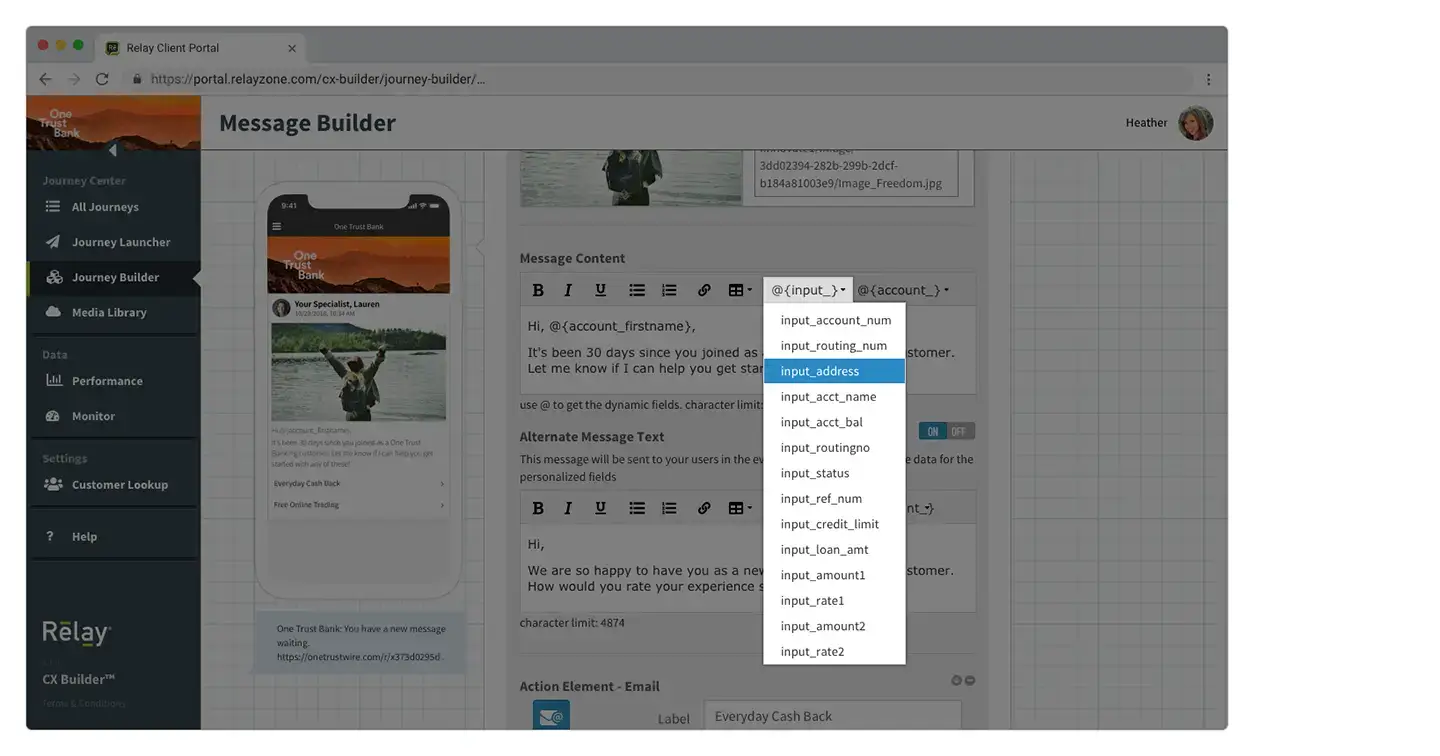 6. And now I can see my changes in the context of the entire user flow.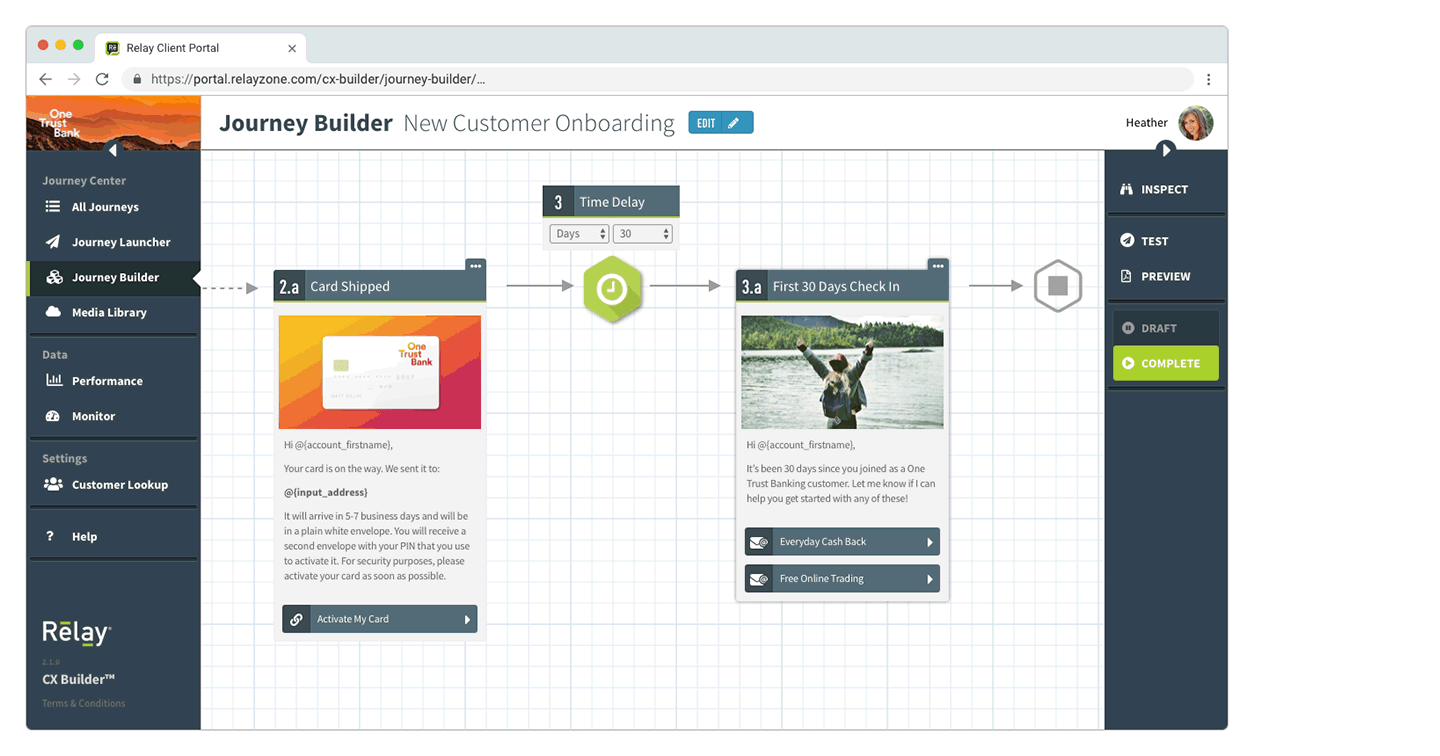 7. I just crafted this gorgeous mobile experience without any design resources and without writing a single line of code.
Bonus: Because every user experience requires compliance and legal review, I use this Preview with version control to make it easy for me to track changes and get sign-off.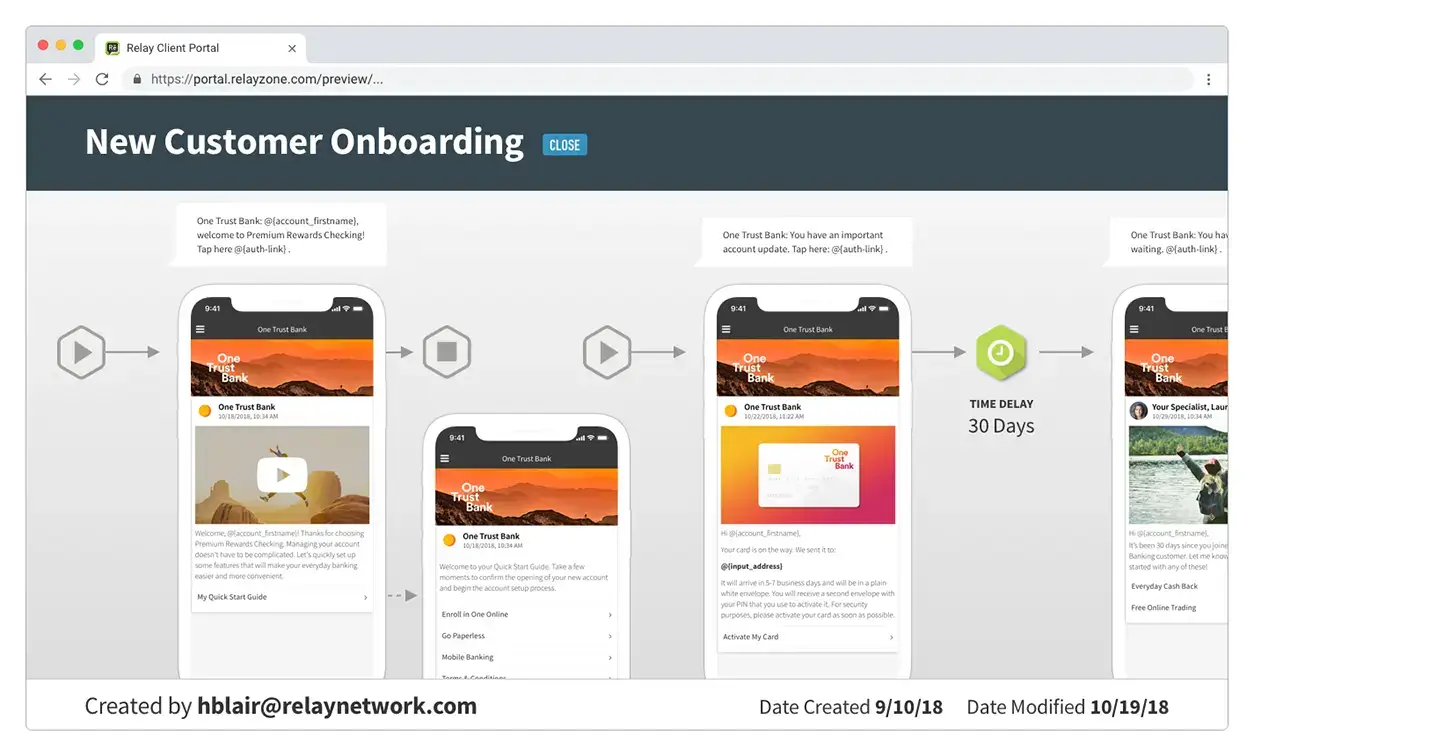 8. After I have approval, I can set my triggers right here that tie into my existing CRM, Customer Service Platform (CSP), or marketing automation systems. So, the exact same triggers that push out an email or mail piece today can push out a Relay message — that saves everyone time and makes my tech team happy.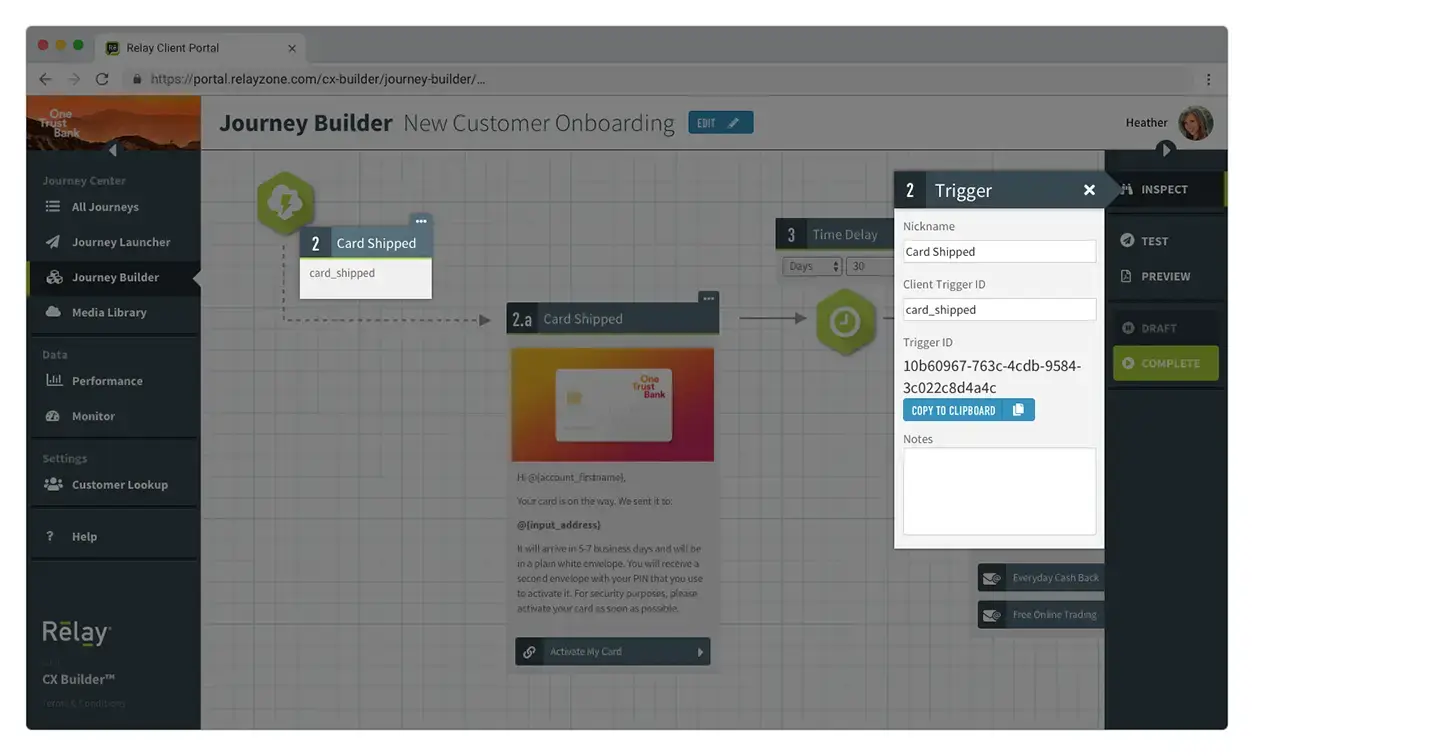 9. If I don't have triggers I can launch it right here from CX Builder. It's now complete and ready to go.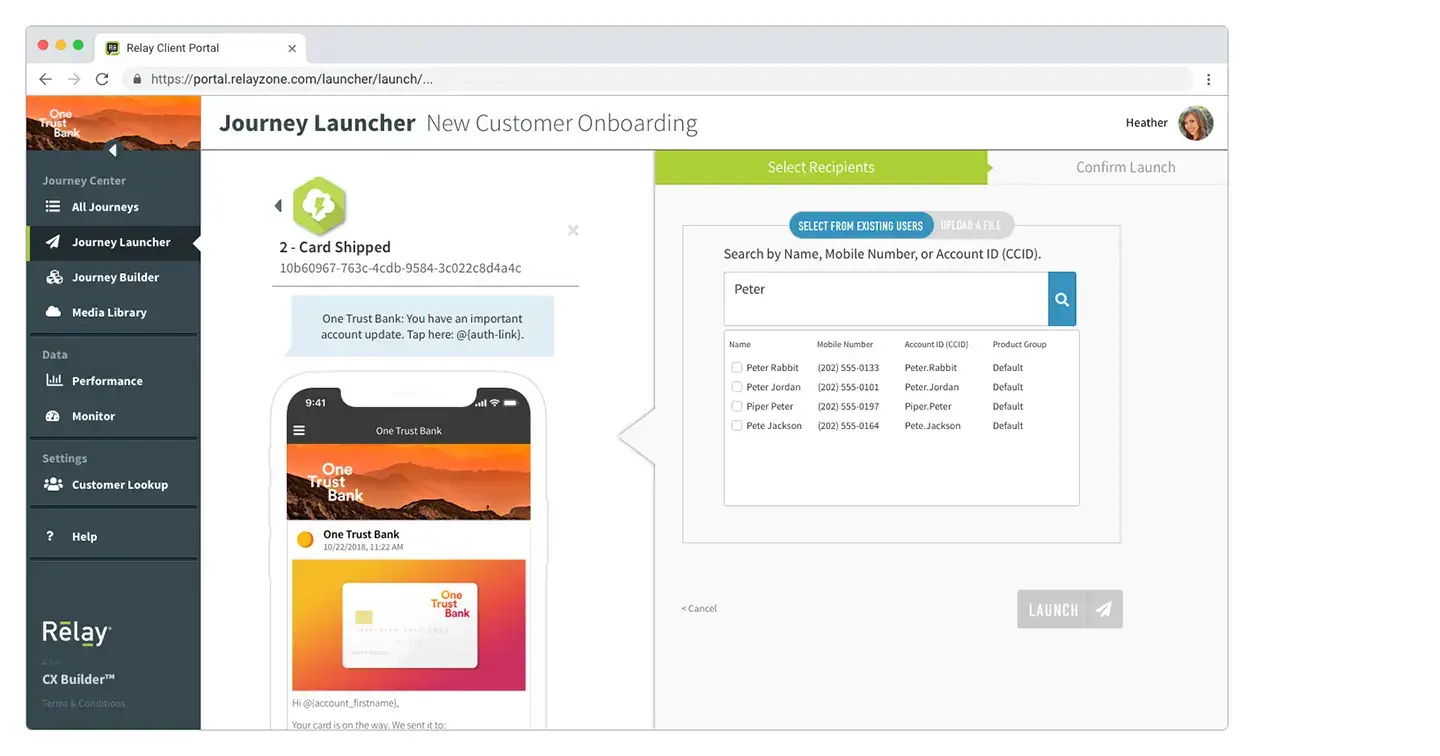 10. I send the message and…ta da! In an instant it appears on the user's Customer Feed™ — a simple, secure user interface that stores all their digital interactions in one place. It's a secure personalized website, so the customer didn't have to download anything. In under a minute, I created a gorgeous, dynamic, individualized mobile experience that scales.
Improving customer experience in banking means making it easy for everyone
Driving positive customer experience in banking has to happen on both sides. Businesses need to know what customers need and have the tools to deliver it quickly, while customers need an easy way to access and engage with those messages. Relay solves both: Our CX Builder gives businesses the power to create effective experiences with ease, and our Customer Feed gives users the power to engage with those experiences on their phones.
---
Want to experience the live demo for yourself? Reach out to request the One Trust Bank experience.